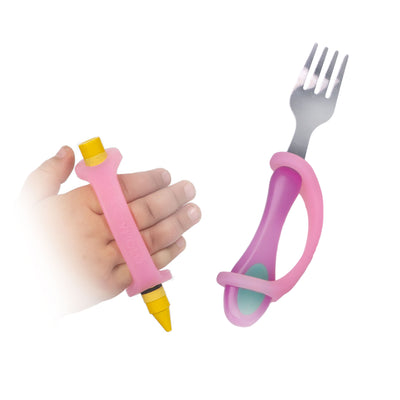 EazyHold Pink Two Pack 4" silicone pediatric eating aid is for ages 1 to 5 years. This tiny universal cuff easily holds many objects for children with grip issues. Helps to hold a fork or spoon, musical instrument or doll. Hold a marker or toothbrush. Your child will be confident using this pediatric universal cuff for all kinds of activities!
Pretty Pink EZ  is just a bit bigger than the yellow. Just right for holding onto all kinds of items for play and school. How about a marker, a fork, toothbrush, a super hero or a doll? The little pink EZ will hold them all, and give your little one the freedom they need to learn to accomplish and achieve! Made of nontoxic latex-free silicone, and designed to last!    
* Soft and comfortable.    
* 100% food grade silicone
* Dishwasher safe
* Fun color for inclusive play