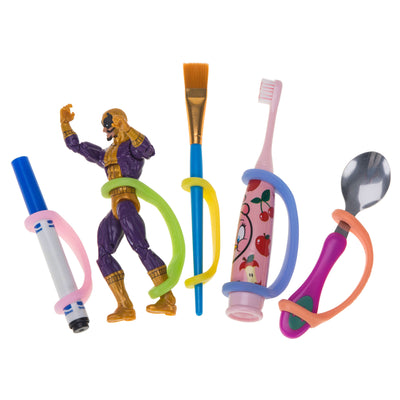 Infants to 10 Years
Our colorful soft silicone adaptive aid makes holding objects fun and easy! This 5 pack has the five smallest-sized EazyHold universal cuffs for an infant to child, up to approximately 10 years old.  For infant use, 6 months is recommended age to start, as this is the age when children begin reaching, grasping, and developing eye-hand coordination as well as gross and fine motor skills.
Rattles, teethers, baby bottles, and soft soothers all want to be explored. EazyHold will help your child to accomplish these important sensory and motor developmental milestones.
 Toddlers aged 1 to 3 years will benefit from using the eazyhold for eating utensils, sippy cups, crayons, paint dabbers, music makers and shakers, gait trainers, & toys... you name it!
 They help children with a wide range of disabilities, physical challenges, or special needs and are perfect for home, school, and traveling.

Non-toxic and latex free
Soft and comfortable
Hygienic easily washed and quick drying, dishwasher safe
Medical-grade wipes safe
Easily transfers to a variety of objects
For right or left hand
Fits all utensils, spoon, fork, knife